Embossing and Foil Stamping
Leather Embossing is a process where we make a metal stamping plate with your Company Name or Logo or whatever you would like to have embossed into the leather product. Depending on the type of leather we are working with we may press the die cold on a moistened piece of leather or mount the die into a hot stamping press which presses the die into the leather with high pressure and heat to make the impression. Hot stamping or leather branding, as it is sometimes called, works well on Leather Gloves, Jackets and Portfolios. With the use of foils we can add some color making your Logo or Name stand out even more. We are the Number One source for the promotional industries leather stamping and engraving needs.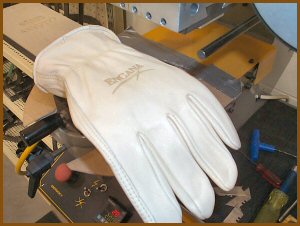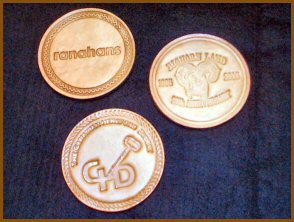 Laser Engraving
With Laser Engraving the leather product is actually burned with an ultra high temperature laser. The laser is controlled by a computer that would see the laser equipment as a printer, so anything that can printed on paper can be burned into a piece of leather. With our Hi-Tech Laser Equipment we can put your Company Name or Logo on many different products. Laser Engraving is particularly useful when you have to put many different names on a product such as name tags or leather labels. If you have an item you want to put a Name or Initials or Personalize in any way, laser is the way to go. It is easy to a one off job without the expense of stamping dies and is very inexpensive to make that special gift to say what you want it to say.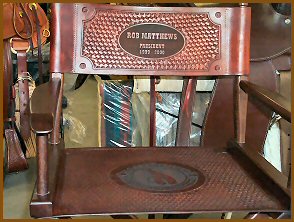 Custom Manufacturing
If you are looking for a Leather Product or a Leather Part you can not find anywhere or would like to have something made that is specific to your needs. We can assist you. With Computer aided Design, Die Making and Production Capability for small to medium size runs we are the answer to your Special Leather Product needs. With our in-house cutting die making and clicker presses we also do custom cutting of leather and vinyl.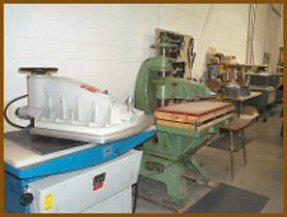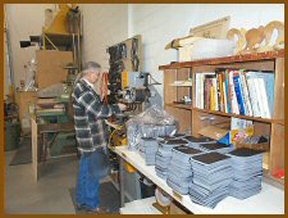 Leather Repairs
Although we Specialize in Saddle and Tack Repair as well as Antique Restoration we do Expert Quality Repair Work on just about any type of Leather Product. Whether it be an antique leather trunk that needs to be restored or just a belt that needs to be shortened we are your right choice for the job.
---
---